Events: Conferences, Meetings and Activities
(last update: 09.11.2018)
Please send information about meetings to the web publisher (Madeleine Buehler): Send e-mail

For information about past conferences, meetings and activities: Visit the Archive.
International Training Workshop in Conservation Biological Control of Insect Pests
12–15 November 2018, Lincoln University, New Zealand

This workshop is a follow-up to that held simultaneously in Beijing and Hanoi in September 2017, which covered all aspects of insect biological control. The pro-posed workshop will concentrate on Conservation Biological Control (CBC) only. It will target researchers, teachers and especially graduate students and early-career scientists researching or working in biological control in any geographic region.
Of the three main types of biological control of insect pests, CBC is the newest and the fastest growing. There has been a global exponential increase in citation rates for publications in the area of CBC since 1990 (Prof. G.M. Gurr, pers. comm.) and the rate of increase is continuing. This indicates the importance of this 'sustainable' approach to pest management.
A group of experts, mainly from the Asia-Pacific region, will lead the programme, including Prof. Steve Wratten (Lincoln University, NZ), Prof. Geoff Gurr (Charles Sturt University, Australia), Dr Kris Wyckhuys (Vietnam) and Prof. Jonathan Lundgren (USA).
Inexpensive single accommodation and food is available on the Lincoln University campus. Other accommodation and food options are available locally in Lincoln and in Christchurch, 17km away. Our aim is to make this important event a true work-shop that involves interactive, blended-learning methods and small-group work.
Previsional Programme: See IOBC-APRS Newsletter No.9, Aug. 2018, p. 7-8 (pdf)
For registration, payment or more information please email Janine Johnson (janine.johnson@lincoln.ac.nz) or Michelle Boyle (michelle.boyle@lincoln.ac.nz).

9th International Workshop on Biological Control and Management of Eupatorieae and other Invasive Weeds
5 – 8 March 2019, Kuala Lumpur, Malaysia.
This workshop is organised under the auspices of the International Organisation of Biological and Integrated Control (IOBC) and CABI Southeast Asia. The first workshop was held in 1988 to facilitate the management and biological control of Chromolaena odorata in resource-poor tropical and sub-tropical countries.
In 2003, the scope of the workshop was expanded to include closely related species such as Mikania micrantha, while retaining an emphasis on the tropics. Malaysia has been selected as the host country for this 9th workshop, the first to be held in Southeast Asia.
The tribe Eupatorieae, which includes Chromolaena odorata and Mikania micrantha are widespread in Southeast Asia and have significant economic impacts to agriculture, the environment and livelihoods. The entire region has been shown to be highly climatically suitable for the weeds.
Other species of invasive alien plants for which there are good biological control agents available and which could be included in this workshop if the interest exists, include Salvinia molesta, Pistia stratiotes and Parthenium hysterophorus.
Programme and more information: http://www.iobcinvasiveweeds2019.org

IOBC-Global Working Group meeting:
14th International Symposium Ecology of Aphidophaga
16-20 September 2019, Montreal (Quebec), Canada.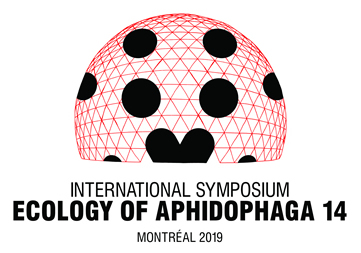 It will be 20 years since the last Aphidophaga was held in the province of Quebec in Canada and we are grateful to the Scientific Committee of Aphidophaga and the International Organization of Biological Control (IOBC) for choosing Montreal as the venue for the 14th Symposium. We are also grateful to the IOBC for supporting the meeting.
We look forward to welcoming you to Montreal in 2019 for Aphidophaga 14.
Topics include:
Life cycle, voltinism and diapause
Food relations (including non-aphid food of aphidophaga)
Behaviour
Systematics and morphology
Phylogeny
Population dynamics
Modelling
Distribution and seasonal adaptation
Parasitoids and pathogens of aphidophaga
Parasitoids and pathogens of aphids
Tritrophic interactions
Intraguild interactions
Invasive aphidophaga
Chemical ecology
Integrated pest management
Climatic changes
More Information: http://www.aphidophaga14.uqam.ca
Contact: aphidophaga14@uqam.ca

Events of other IOBC Regions:
IOBC-Global and West Palaearctic Regional Section, IOBC-WPRS:
http://www.iobc-wprs.org/events/index.html
Nearctic Regional Section, IOBC-NRS:
http://www.iobcnrs.com/index.php/events-calendar