Events: Conferences, Meetings and Activities
(last update: 27.04.2018)
Please send information about meetings to the web publisher (Madeleine Buehler): Send e-mail

For information about past conferences, meetings and activities: Visit the Archive.
First International Congress of Biological Control (ICBC-1)
14-16 May 2018, Beijing, China.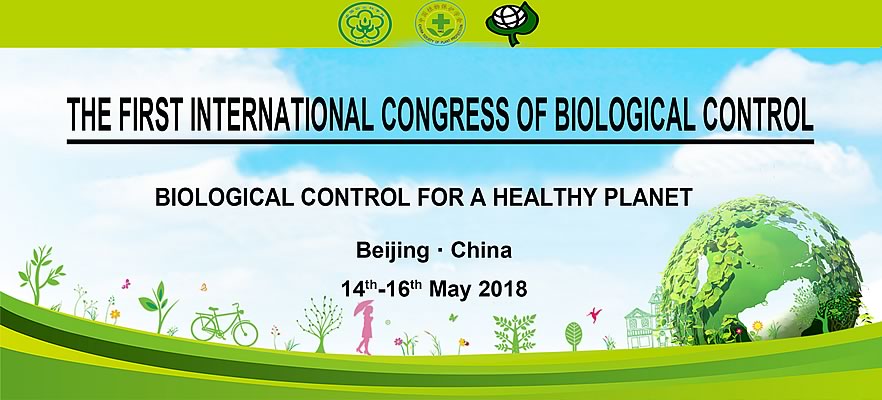 The First International Congress of Biological Control (ICBC-1) will be held at Beijing Friendship Hotel and Chinese Academy of Agricultural Sciences, May 14-16, 2018.
This congress, hosted jointly by the Chinese Academy of Agricultural Sciences (CAAS), the Chinese Society of Plant Protection (CSPP) and the International Organization for Biological Control (IOBC) will cover a wide range of biological control topics regarding insect pests, invasive weeds and plant diseases. The purpose of the conference is to strengthen communication and cooperation between researchers investigating biological control techniques of insect pests, invasive weeds and plant diseases, and to promote the global development of biological control technology and industry. The theme of this congress is: 'Biological Control for a Healthy Planet' with a sub-theme of 'Interdisciplinary Biological Control.'
Congress Topics:
Integration of the various classes of biological control
Biological control of plant diseases, insect pests and weeds
Biological control as means of preserving biodiversity
Risk assessment and biosafety for biological control
Industrial policy and market development of biological control
Socio-economic impacts and capacity building for biological control
Current status and uptake of biological control in the Belt and Road conttries
More information: Poster (jpg)
Congress Website: www.canevent.com/customPage/customPagePreview?pageId=43608&eventId=10003226

XVth International Symposium on Biological Control of Weeds,
ISBCW 2018
26-31 August 2018, Engelberg, Switzerland
Sessions will be held on:
Target and agent selection
Novel methods to determine efficacy and environmental safety of agents
Making classical biological control more predictive: moving from ecological to evolutionary processes
Regulations for agent release and access to genetic resources
Post-release monitoring and evaluation
Social and economic assessments of biological control
Integrated Weed Management and restoration
Opportunities and constraints for classical weed biocontrol in developing countries
Opportunities and constraints for classical weed biocontrol in developed countries
Bioherbicides
Deadline for early registration and submission of abstracts: 30 March 2018.
Online registration: https://www.isbcw-2018.com/index.php?cat=registration
Contact: info@isbcw-2018.org, Website: http://isbcw-2018.com

1st International Conference on Biological Control: Approaches and Applications (ICBC 2018)
27-29 September 2018, Bengaluru, India.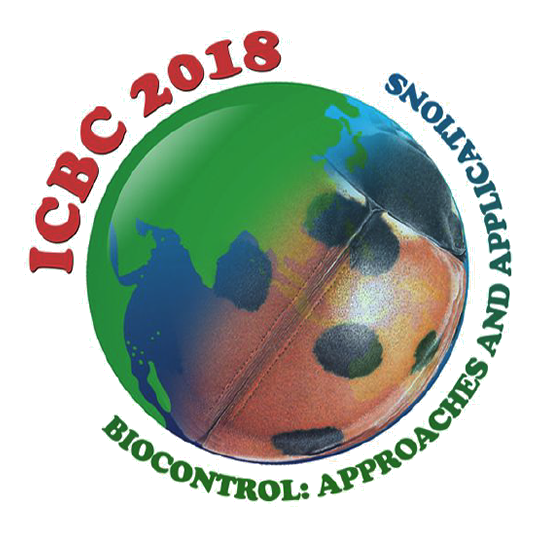 Conference Theme:
Biological Control: Approaches and Applications
Globally, up to 30% of agricultural yields are affected by pests and diseases despite intensive chemical pesticide use. Biological control of insect pests and diseases is one of the major ecosystem services provided to agriculture worldwide. Natural enemies such as predators, parasitoids and pathogens play a major role in limiting damage caused by nature and exotic pests. The main theme of the conference is to address issues related to various biological control approaches in the context of biodiversity, increased chemical pesticide pressure and climate change. The emphasis would also be on the challenges faced by researchers, farmers and other stakeholders in implementing biological control programs. The conference would include keynote addresses, plenary and oral presentations and poster sessions.
The conference would cover the following Sub Themes related to Biological Control
Biodiversity and Biosecurity
Conservation Strategies
Biotechnological Approaches in Biocontrol
Production and Utilization of Macrobials for Insect Pest Management
Production and Utilization of Microbials for Insect Pest and Disease Management
Biological Control Compatible Approaches
Biological Control of Invasive Pests and Weeds
Biological Control: Industrial Perspective and Policy Issues
IOBC-Global Parthenium Working Group Workshop
IOBC-Global Tuta absoluta Working Group Workshop
More information: First Announcement (pdf), Second Announcement (pdf)
Website: www.icbc2018.tarasviinfotech.com

Training Workshop:
Asia-Pacific Forest Invasive Species Network
DEVELOPING SKILLS IN FOREST PROTECTION:
AN INTEGRATED APPROACH
23-27 October 2018, Beijing, China

This training workshop, to be held in Beijing, China from October 23-27, 2018 in conjunction with the China National Forest Protection Congress, aims to provide hands-on training on properly identifying disease based on signs and symptoms, causal agents, and best management practices for disease control. It is targeted at recent graduates, entry-level and mid-level practitioners who are involved in forestry management, forest health monitoring, and management of forest diseases and their control.
The main objectives of this training workshop are to equip participants with the skills to:
Understand the concept of the Disease Triangle, Koch's Postulates, and what constitutes disease.
Recognise and identify the main causes of plant disease, basic biology, disease distribution and spread. Identify common fungi based on morphology and DNA bar-coding.
Detect and diagnose disease using various methods of sampling, culturing, specimen preservation and collection.
Determine suitable methods of disease management and control with emphasis on integrated pest management (IPM).
This training course is targeted at recent forestry graduates and practitioners who plan to/will be involved in aspects of forest health and management, monitoring, silviculture, tree breeding, pest and disease management and control. The target number of trainees is 30 participants, the number of participants from Asia-Pacific Forestry Commission member countries outside China depending on the available budget.
The working language for the symposium and training course is English.
More information: Announcement (docx) with Draft Agenda and Nomination Form
Events of other IOBC Regions:
IOBC-Global and West Palaearctic Regional Section, IOBC-WPRS:
http://www.iobc-wprs.org/events/index.html
Nearctic Regional Section, IOBC-NRS:
http://www.iobcnrs.com/index.php/events-calendar