Events Archive: Past Conferences, Meetings and Activities
First International Congress of Biological Control (ICBC-1)
14-16 May 2018, Beijing, China.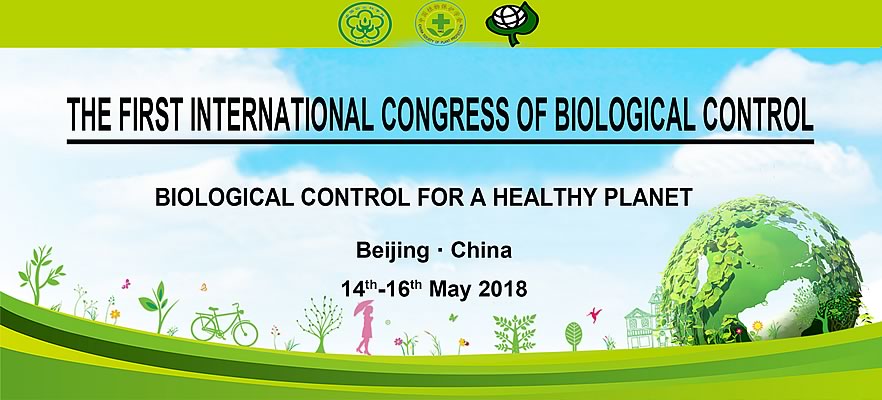 The First International Congress of Biological Control (ICBC-1) will be held at Beijing Friendship Hotel and Chinese Academy of Agricultural Sciences, May 14-16, 2018.
This congress, hosted jointly by the Chinese Academy of Agricultural Sciences (CAAS), the Chinese Society of Plant Protection (CSPP) and the International Organization for Biological Control (IOBC) will cover a wide range of biological control topics regarding insect pests, invasive weeds and plant diseases. The purpose of the conference is to strengthen communication and cooperation between researchers investigating biological control techniques of insect pests, invasive weeds and plant diseases, and to promote the global development of biological control technology and industry. The theme of this congress is: 'Biological Control for a Healthy Planet' with a sub-theme of 'Interdisciplinary Biological Control.'
Congress Topics:
Integration of the various classes of biological control
Biological control of plant diseases, insect pests and weeds
Biological control as means of preserving biodiversity
Risk assessment and biosafety for biological control
Industrial policy and market development of biological control
Socio-economic impacts and capacity building for biological control
Current status and uptake of biological control in the Belt and Road conttries
More information: Poster (jpg)
Congress Website: www.canevent.com/customPage/customPagePreview?pageId=43608&eventId=10003226

2017 AES Conference, Australian Entomological Society
48th AGM and Scientific Conference, "Biosecurity – A Partnership Approach"
17-20 September 2017, Crowne Plaza in Terrigal on the Central Coast of NSW (an hour north of Sydney), Australia.

This year the conference theme will be the science behind biosecurity and the protection of the economy, environment and community from negative impacts associated with insect pests. The exciting science that underpins successful biosecurity will be on show where topics will include, amongst other things, the principles of preparedness, prevention, management, and biology of our invading (or already "invaded") pests.
The 2017 conference logo is the glassy-winged sharpshooter, Homalodisca vitripennis (Germar) (Hemiptera: Cicadellidae) which has marched its way across the Pacific from its natural range in the southeast USA and northeast Mexico. It has travelled via California, French Polynesia, Hawaii, and Easter Island and is a fascinating insect that is an important vector and has some fascinating success biological control stories in some of its invaded ranges along the way.
Website: www.aesconferences.com.au

5th International Symposium on Biological Control of Arthropods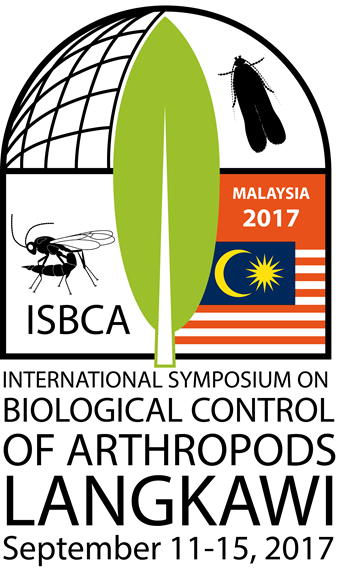 11-15 September 2017, Langkawi, Malaysia.
This conference continues the series of international symposia on the biological control of arthropods held every four years. Dr Roy Van Driesche was the founder of the series and held the first meeting in Hawaii in January 2002. The second meeting took place in Davos, Switzerland, in September 2005, the third in Christchurch, New Zealand, in February 2009. The latest one was held in Pucón, Chile, in March 2013. The upcoming 5th symposium will follow the proven format and framework of the previous four symposia, as they have all been very successful and highly appreciated by the participants.
Website: www.isbca-2017.org

Hands-On Training Course
MAXIMIZING OPPORTUNITIES FOR
BIOLOGICAL CONTROL IN ASIA'S CHANGING AGRO-LANDSCAPES
2-9 September 2017, Beijing, China & Hanoi, Vietnam (concurrent)
The International Organisation for Biological Control - Asia and Pacific Regional Section (IOBC-APRS) and International Center for Tropical Agriculture (CIAT) bring to you
MAXIMIZING OPPORTUNITIES FOR
BIOLOGICAL CONTROL IN ASIA'S CHANGING AGRO-LANDSCAPES
This one-week field course will be organized around a number of topics that are of immediate relevance to Asia's agriculture, such as invasive species, ecological intensification, biodiversity loss in agricultural settings, and landscape simplification. The short course will provide a primer to students and young professionals in how biodiversity aspects biological control of pests - within the particular context of Asia's intensified agriculture. The course will use an approach that will pair lecture-style introductions to key topics by world experts with hands-on activities in order to reinforce key concepts. Cross-cutting subject areas that will be covered in this course include: Biodiversity in tropical systems; diversity from landscape to farm-level scales; the importance of diversity & biological control on smallholder farms; and the importance of resource diversity to biological control.
The short course will not only celebrate Asia's historical contributions to the field of arthropod biological control, but equally highlight opportunities and threats for sustained biological control in present-day farming systems. The course will introduce novel concepts, tools and methodological approaches, and plant the seed for invigorated applied research on arthropod biological control in Asia's highly unique yet rapidly changing agro-landscapes.
Flyer, Call for Application (pdf)

47th AGM and Scientific Conference, Australian Entomological Society and Entomological Society of New Zealand,
Theme: "Understanding and managing insects for our mutual benefit"
27-30 November 2016, Melbourne, Australia



IOBC-APRS will be co-convening a symposium at this conference (see Symposium 6 below). Please visit the website for more information, and think about presenting a paper or poster. The venue for the conference is the Rydges on Swanston.

Symposia:
Invertebrate conservation and invasive species.
Dr Gary Taylor, Dr Isabel Valenzuela and Dr Bernie Dominiak
Ecosystem services in a changing environment.
Professor Geoff Gurr
Social insects: challenges economic opportunities and behavioural insights
Dr Nathan Lo
The role of phytochemistry in insect nutrition.
Dr Martin Steinbauer, Dr Clare L. Casteel, Professor Rosy Mary dos Santos Isaias, Professor Juha-Pekka Salminen
Taxonomy, systematics and the importance of reference collections
Mr John Marris, Dr Mali Malipatil, Dr Mark Blacket and Dr Vratislav Ricardo Bejsak-Colloredo-Mansfeld
Biological control for Agriculture and the Environment.
Dr Bill Palmer and Dr Luke Barrett
Website: www.aesconferences.com.au

ICE 2016, XXV International Congress of Entomology
25-30 September 2016, Orlando, Florida, USA

IOBC-Global will be sponsoring four biological control symposia at the International Congress of Entomology.

For more information on other biocontrol-related talks, see the full list of symposia here: http://ice2016orlando.org/scientific-program/symposia

26 Sep
9.15– 11.45am

IOBC Symposium:
Zoophytophagous Arthropods in Biological Control
Conveners: Josep A. Jaques (Universitat Jaume I, Spain) and Alberto Urbaneja (Valencian Institute for Agricultural Research, Spain)

26 Sep
1.30-4.30pm

IOBC Symposium:
Status and Prospects for Biological Control in the 21st Century
Conveners: Russell Messing (University of Hawaii, USA) and Jacques Brodeur (University of Montreal, Canada)

26 Sep
6-8pm

IOBC Global General Assembly - all members welcome

27 Sep
9.15—11.45am

IOBC Symposium:
Opportunities and Challenges for Biocontrol of Disease Vectors
Convener: Matthew Thomas (Penn State University, USA)

27 Sep
9.15-am 12.30pm

IOBC Symposium:
Biological Control Under Climate Change
Convener: Jianqing Ding (Chinese Academy of Sciences, China)

27 Sep
8-9.30pm

Social mixer co-hosted by NRS and IOBC Global - all members welcome

1st International Workshop of the IOBC-APRS Working Group "Predatory Mites as Biological Control Agents"
15-19 May 2016, Beijing, China
The theme of the 1st workshop was "Resources to Industry: bridging the gap", implying the interest and endeavor of the working group members in screening predatory mite resources and developing an industry with more commercial products against more target pests. The workshop especially focused on how to evaluate and utilize rich predatory mite resources in the Asia-Pacific region.

Group photo of the 1st International Workshop of IOBC-APRS in Beijing, China, 15-19 May 2016
More Information: Event page with Book of Abstracts, Programme und Photos

EMAPI 2015, 13th International Conference Ecology and Management of Alien Plant Invasions

20.-24.09.2015, Hawai'i Island, USA
The conference may be of special interest to weed biocontrol practitioners.
EMAPi 2015 provides the opportunity to share findings and experiences — research, management, and policy — with professionals from around the world. A mid-conference field trip will offer first-hand experience with Hawaii's plant invasions, while also allowing extensive opportunities for networking. For this international meeting, we are expecting to bring together ~ 300 active researchers, managers and policy makers.
One of the special sessions will focus on "Biocontrol of Invasive Plants" in which we will consider the science, practice and policy of weed biocontrol, particularly the benefits and risks of introducing specialist herbivores and pathogens for conservation objectives.
A special discounted registration will be available to students.
Website: www.emapi2015.hawaii-conference.com

Biocontrol Asia 2015 Conference, 17-18 March 2015
13th New Ag International Conference & Exhibition, 18-20 March 2015
Date,
Event, Place
17-18 March 2015: Biocontrol Asia 2015 Conference,
18-20 March 2015: 13th New Ag International Conference & Exhibition,
New Dehli, India.
Aims &
Topics
Biocontrol Asia Conference: During the one and a half day meeting selected presentations on key current Biocontrol topics will be delivered by world renowned speakers/organisations. The conference will also feature a display of poster presentations. Biocontrol companies in attendance at the Biocontrol Asia 2015 conference will be invited to exhibit at the 13th New Ag International Conference over the 3 days following.
13th Annual New Ag International Conference & Exhibition:
In March 2015 the World's Leading Conference on High Tech Agriculture will return to India. Delegates from over 60 countries will descend on the vibrant city to meet with exhibitors from leading companies from every corner of the world, to consolidate or acquire knowledge on the latest trends in plant nutrition, irrigation, fertigation, foliar spraying, greenhouse technology and support systems. The meeting's prestigious line up of conference speakers includes, but is not limited to, top international executives from all corners of the globe. The programme of speakers will have a particularly strong participation from the Indian and Asia regions most globally active companies in international high-tech agricultural inputs.

Contact
conferences@newaginternational.com
Information
Website: http://www.newaginternational.com/newdelhi/newdelhi.html

Australian Entomological Society Conference, 28 Sep – 1 October 2014
Date,
Event, Place
28 Sep – 1 October 2014: Australian Entomological Society Conference,
Canberra, Australia.
Aims &
Topics
IOBC-APRS is organizing a symposium at this conference on "Biological control in the Asia-Pacific Region: highlights from the last 50 years and emerging issues for the future".

Information
Report, photos and presentations from the IOBC-APRS Symposium.
Conference website: http://www.aesconferences.com.au

Seminar "Research and Applications of Biological Control", 9 July 2014
National Agricultural Biological Security Science Center, IPP-CAAS, 9 July 2014
The seminar included visiting scientists from research organisations, and the biological control industry interested in the use of predators for biological control. Seminar programme (pdf)
IOBC-APRS Vice President, Yulin Gao gave a presentation on
"IOBC Global and APRS: Who we are?" (pdf)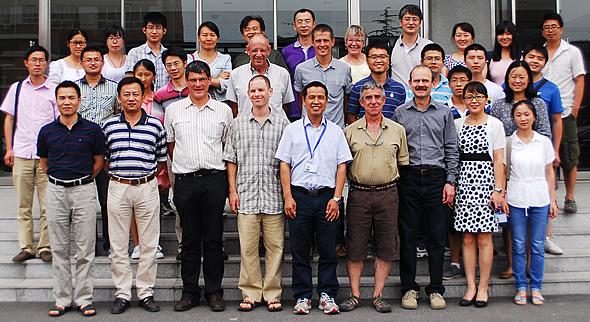 Group photo, seminar 'Research and Applications of Biological Control', National Agricultural Biological Security Science Center, IPP-CAAS, 9 July 2014

The IOBC Australia and New Zealand Biocontrol Conference 2008
The inaugural IOBC-ANZBC was held at the Menzies Hotel in Sydney, Australia, 10 - 14 February 2008.
The conference spanned the disciplines of insect pest, weed, plant pathogen and vertebrate pest biological control and there were sessions dedicated to various biological approaches and techniques. Conference sessions and an integrative workshop explored underlying themes including ecology and economics. Combined with European and American keynote speakers and participants, the meeting had strong international relevance.
Sessions and keynote presentations discussed biocontrol success stories, eradication of emergency plant pests with the use of biocontrol agents, ecological control of insects, vertebrate pest control, biocontrol safety, the way forward for Australasia and many more topics.