1st International Workshop of IOBC-APRS,
"Predatory Mites as Biological Control Agent's" Working Group meeting,
Beijing, China, 15-19 May 2016
The 1st international workshop of IOBC-APRS (International Organisation of Biological Control, Asia and Pacific Regional Section) Predatory Mites as Biological Control Agents working group was successfully held in Beijing on 15-19 May 2016. This workshop was co-sponsored by IOBC, Institute of Plant Protection-Chinese Academy of Agricultural Sciences (IPP-CAAS), State Key Laboratory for Biology of Plant Diseases and Insect Pests, Chinese Society of Plant Protection, and Beijing Leafy Vegetables Innovation Team of Modern Agro-Industry Technology Research System.

The IOBC-APRS Predatory Mites as Biological Control Agents working group was recently established in November 2014. The convenor of this working group is Dr. Xuenong Xu, Professor of IPP-CAAS.

The workshop was hosted by Dr. Xuenong Xu, and Dr. Yulin Gao (Vice President of IOBC-APRS). Dr. Barbara Barratt (President of IOBC-Global), Dr. Jianqing Ding (Vice President of IOBC-Global) and more than 50 scientists and students from New Zealand, Japan, Turkey, Israel, India, Belgium, Poland, Canada, and China participated in this workshop. Other scientists from Vietnam, UK, Korea, and India contributed to the workshop through sending video presentation, poster, and abstracts.

Download:
Abstract Book (pdf)
Programme (pdf)
The theme of the 1st workshop was "Resources to Industry: bridging the gap", implying the interest and endeavor of the working group members in screening predatory mite resources and developing an industry with more commercial products against more target pests. The workshop especially focused on how to evaluate and utilize rich predatory mite resources in the Asia-Pacific region.
Group photo of the 1st International Workshop of IOBC-APRS in Beijing, China, 15-19 May 2016
(click here or on picture to enlarge)
A total of 32 abstracts were received for this workshop. During the three-day workshop, scientists and students exchanged ideas on the current situation and recent advances of predatory mite research. Dr. Barbara Barratt presented some general information about IOBC Global and the Asia Pacific Regional Section, and encouraged more scientists and students to join IOBC. Dr. Dewen Qiu (Vice Direct, IPP-CAAS) provided a brief introduction to IPP-CAAS and showed strong intention for more international communications and cooperation in the future. Dr. Xuenong Xu provided a thorough review of predatory mite research and applications in China in past 50 years, especially focused on the rapid development of this field in last ten years.
Other presentations focused on topics including predatory mite resource surveys and evaluation, morphological and ultra-structure, host plant-prey-predatory mite interactions, tritrophic interactions between prey, predatory mites and -entomopathogenic fungus, hunting behavior, field evaluation and applications, mass production and other aspects. These very impressive presentations prompted considerable exchange of ideas and discussions.
Four young scientists (under 35 years old) were presented with awards for excellence in a young scientist presentation competition. They were Dr. Yaying Li (Southwest University, China), Dr. Magdalena Felska (Wrocław University of Environmental and Life Sciences), Ms. Nathalie Brenard (University of Antwerp, Belgium), and Dr. Jiale Lv (IPP-CAAS, China).
Participants were also treated to an excursion to the Noah Organic Farm, Pinggu District, Beijing to see examples of commercial  application of predatory mites and other natural enemies in greenhouse vegetables.
At the end of the workshop, members of the working group reached the decision to hold the workshop once every two years. India won the ballot for hosting the 2nd workshop in 2018.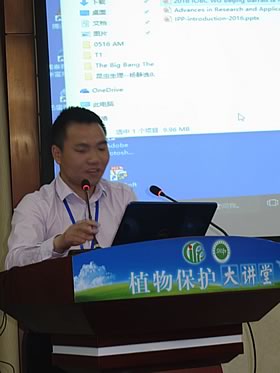 Dr Gao Yulin, IPP-CAAS, Workshop host, Vice President of IOBC-APRS, opening remarks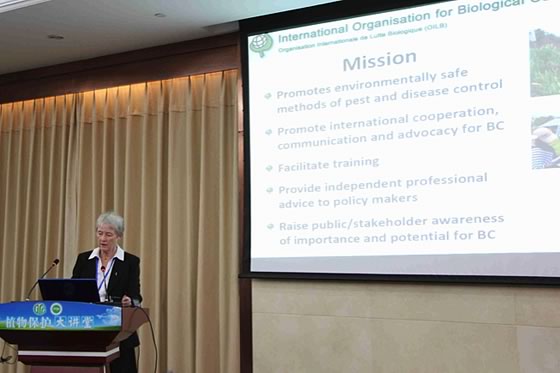 Dr Barbara Barratt presentation on IOBC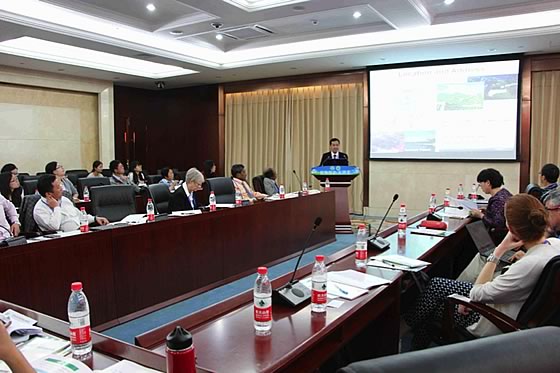 Professor Qiu Dewen (Vice Director of IPP-CAAS) welcoming rematks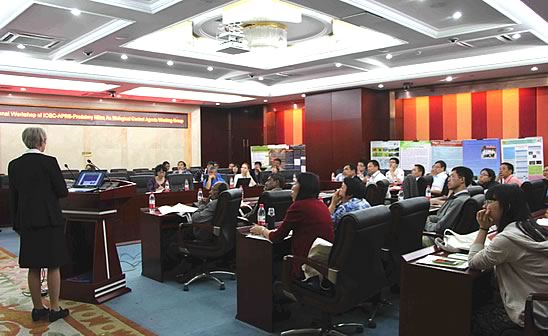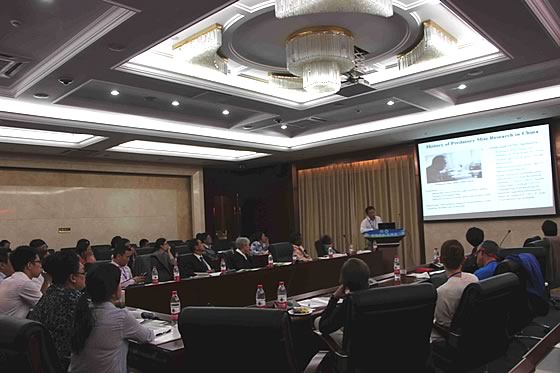 Professor Xu Xuenong presentation on predatory mites research in China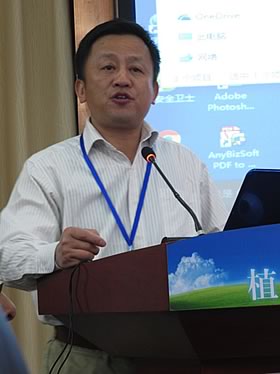 Professor Xu Xuenong, Working Group Convenor, IPP-CAAS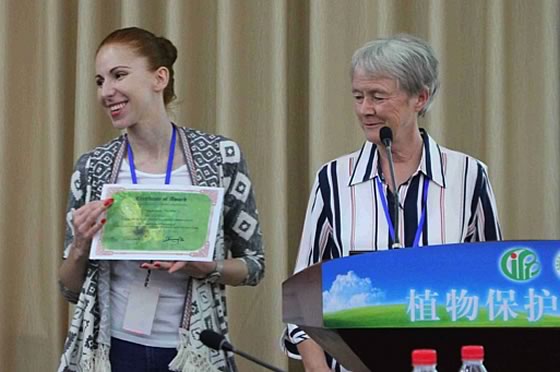 Young scientist awards – Dr Magdalena Felska (Biology Institute, Wroclaw University of Environmental and Life Sciences, Poland)
Young scientist awards – Ms Nathalie Brenard (PhD student, Department of Biology, University of Antwerp, Belgium)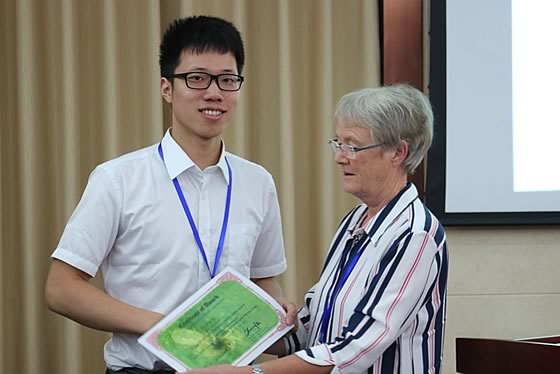 Young scientist awards - Dr Yaying Li (Southwest University, China)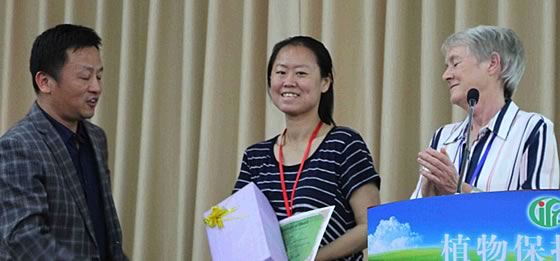 Young scientist awards - Dr Jiale Lv (IPP-CAAS, China)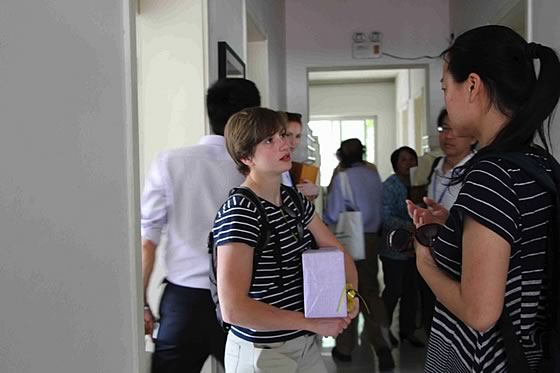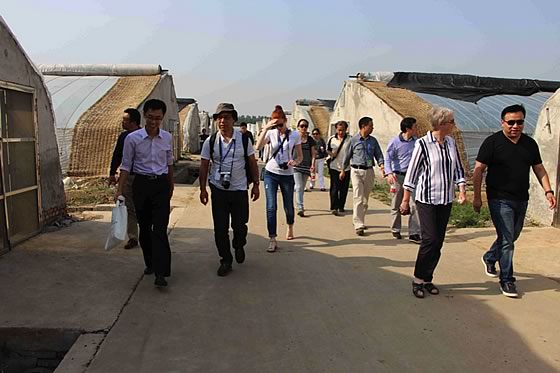 Visit to Noah Organic Farm, Pinggu, Beijing to see examples of commercial application of predatory mites and other natural enemies in greenhouse vegetables